Game is over and the final score is Barcelona 2–3 Atletico. Here is the match report.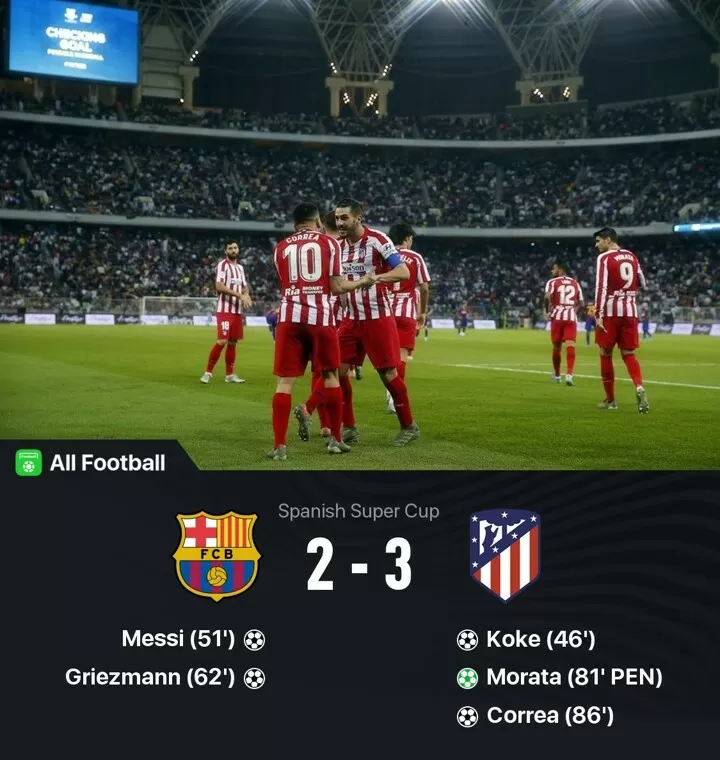 Match Events
5′ Partey's long shot too straight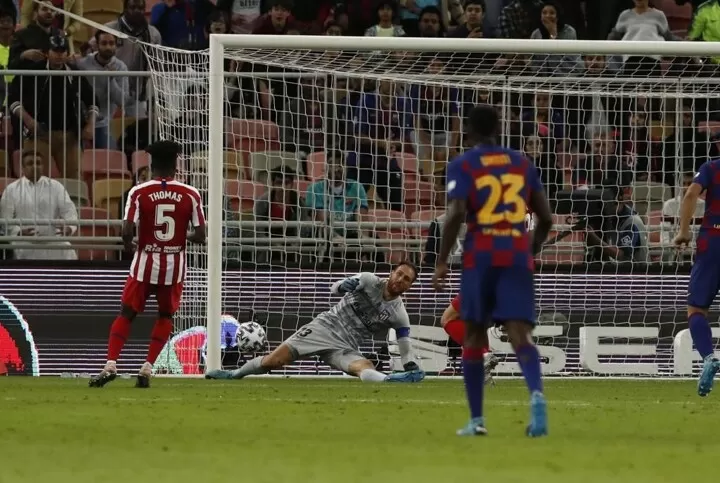 Barcelona just sit back on the edge of their own box as Thomas moves forward with the ball. He decides to go for goal when he finds himself in space outside the box, but his low shot is straight at Neto.
22′ Messi's shot stopped by Oblak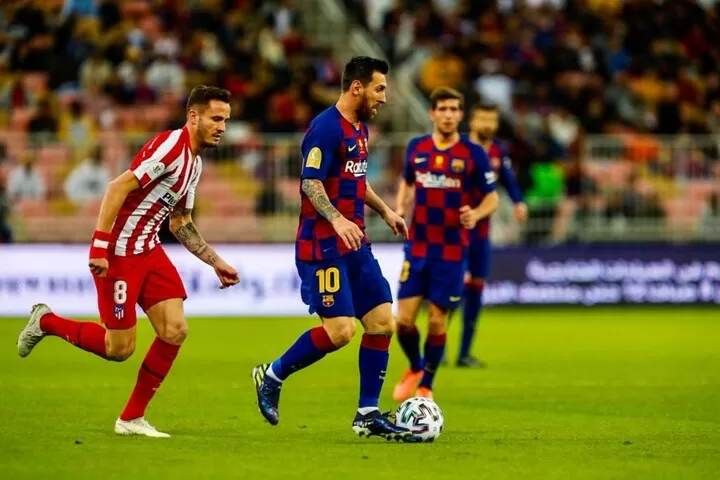 GOOD SAVE! Again, Barcelona weave their way through Atletico's midfielders and Messi plays a one-two with Griezmann to get himself into some space on the left of the six-yard box. He drills his shot low and Oblak gets a foot to it to kick it away at his near post.
29′ Messi's shot over the bar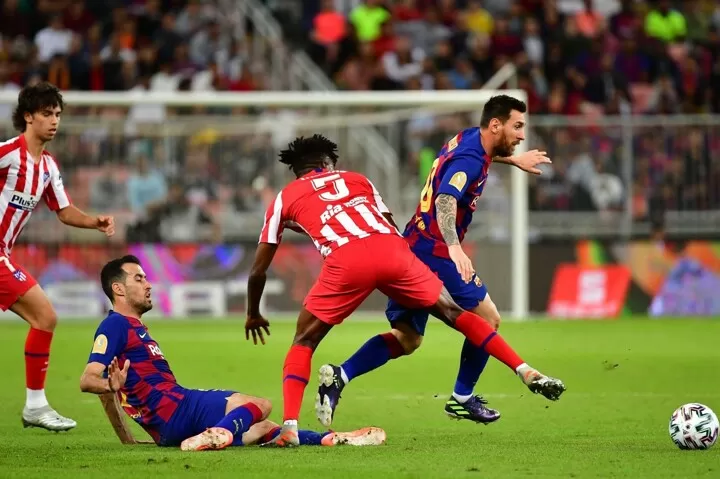 Messi cuts inside from the right and tries to curl an effort towards the top left corner from the edge of the box. He slips as he takes the shot and it sails over the top of the crossbar.
31′ Herrera's free kick stopped by Neto
Herrera steps up to take the free-kick on the left wing and he goes for goal himself. He curls his effort over the wall and it's heading in at the near post, but Neto gets two hands to the shot to push it away.
46′ GOAL! Barcelona 0-1 Atletico (Koke)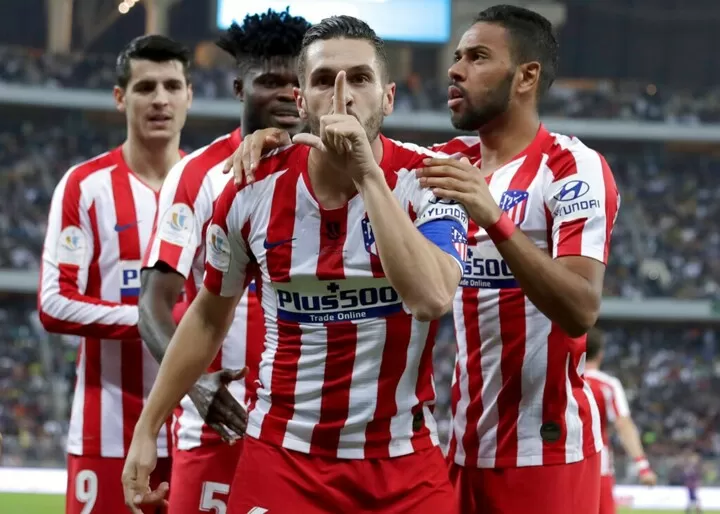 Just seconds after coming onto the pitch, Koke has scored! They go straight on the attack from the kick-off and Correa lays it off to him. Koke then takes a touch before slotting the ball past Neto and into the bottom left corner.
51′ GOAL! Barcelona 1-1 Atletico (Messi)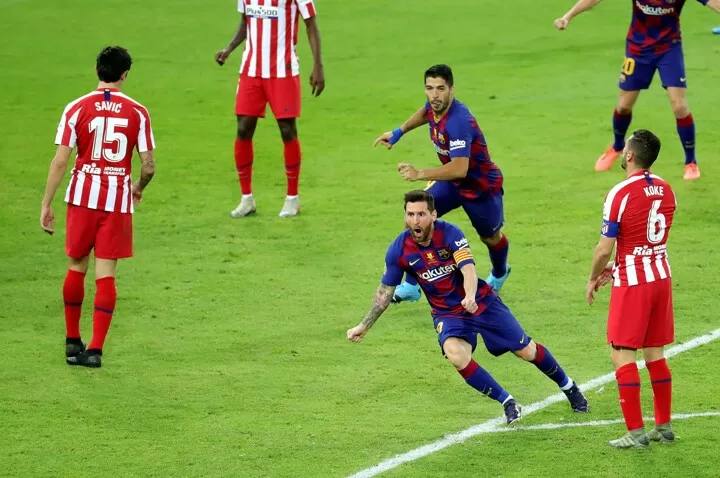 It looked like the chance had gone as Messi was closed down by two Atletico players when he got on the ball but he managed to keep hold of it, get past them and drill his effort low into the bottom left corner.
62′ GOAL! Barcelona 2-1 Atletico (Griezmann)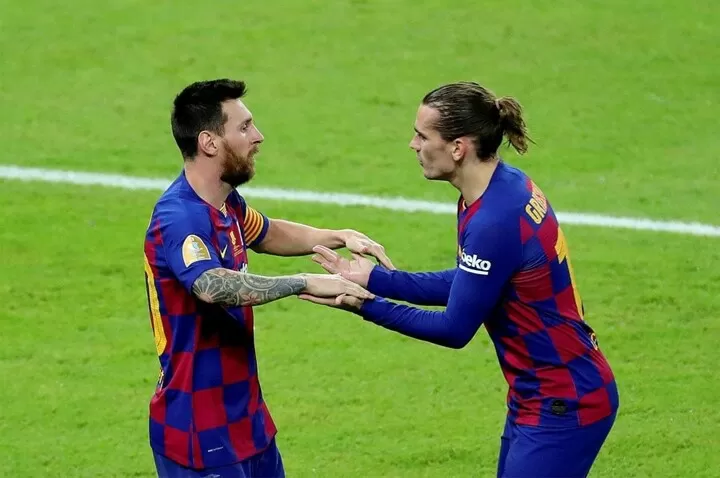 The ball is crossed into Suarez at the near post and he gets a lot of power behind his header. Oblak makes a brilliant save to deny him but puts the ball straight into Griezmann's path and he heads his effort into the back of the empty net. This one counts and Barcelona lead 2-1!
81′ Penalty Goal! Barcelona 2-2 Atletico (Morata)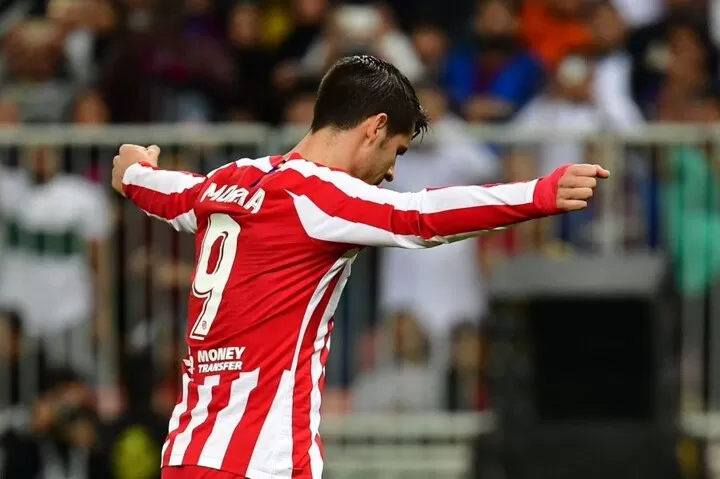 It's Morata that steps up to the spot and it's a confident run-up from the Spaniard. He sends Neto the wrong way and sidefoots his spot-kick into the bottom right corner.
86′ GOAL! Barcelona 2-3 Atletico (Correa)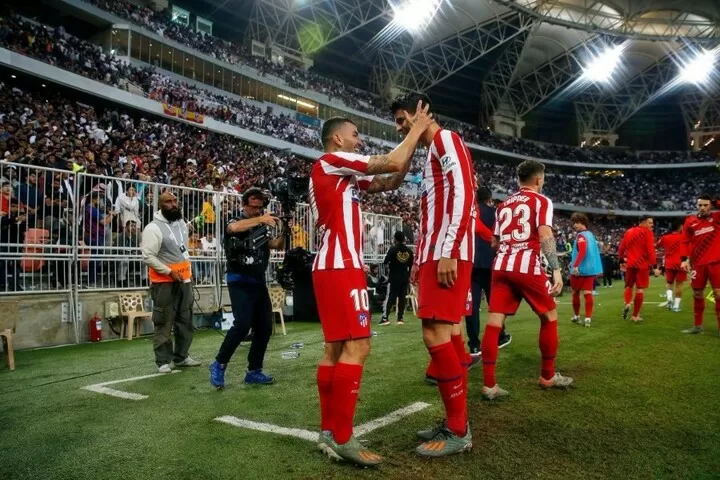 Correa gets the ball and runs at Neto before drilling his shot on target. The goalkeeper gets two hands to it, but the ball loops up and bounces over the line. Rakitic tries to get back and clear it, but goal-line technology shows it's well over the line. 3-2 Atletico!
Line-ups
Barcelona XI: Messi, Suarez, Pique, Vidal, Alba, Busquets, Neto, Griezmann, Roberto, Umtiti, De Jong
Subs: Rakitic, Lenglet, Semedo, Perez, Firpo, Pena, Fati
Atletico XI: Herrera, Oblak, Savic, Trippier, Morata, Saul , Felipe, Partey, Correa, Felix, Lodi
Subs: Adan, Arias, Vitolo, Koke, Hermoso, Llorente, Riquelme