Looking ahead to Saturday afternoon (UK time), Leicester City will be up against Chelsea at King Power Stadium with a 12:30pm start time. This is a Premier League match.
Tune in to BT Sport 1 to watch the match live.
Return to this page for the preview, match prediction and recommended bet.
Head To Head
Leicester City played Chelsea in August for a Premier League match. The match was a draw, with a final score of 1-1.
During the last decade of action, these teams have gone head-to-head 14 times. Leicester City have won in 2 of these head-to-head matches. And Chelsea have won 6 times. There have been 6 draws.
When these sides have met, there has been an average of 2.57 goals per match. Leicester City have scored an average of 0.86; Chelsea score an average of 1.71 per match.
Looking at the match-up in terms of Home and Away performance, whichever side has been at home has won 14% of these games and their visitors have won 42% of the time.
Leicester City
As we look ahead to this one, Leicester City have 48 points in the Premier League, giving them 3rd place.
There has been 51 matches played by the home team in the last year. They have 29 wins; 10 draws; and 12 losses. These recent results put Leicester City on a Win-Draw-Loss rate of: 56%-19%-23%.
In these matches, they have averaged 2.02 goals for, and 1.0 goals against.
At home over this time, they have a win rate of 62% (15 wins). There have been 24 home fixtures. 16% (4) of these games at home have been a draw, with the remaining 20% (5) resulting in a loss for the home team.
At home over the year, their average number of goals scored is 2.0. They have conceded 0.96 on average.
Their recent performance, across all formats, shows that they have scored a total of 15 goals in their last ten matches; they have won 4 of these matches. The total number of times both Leicester City and the other team have scored in these games is 6 out of the ten and the total number of matches with over 2.5 goals scored is 7 games over this same period. They have scored at least once in each of their last 7 matches.
Chelsea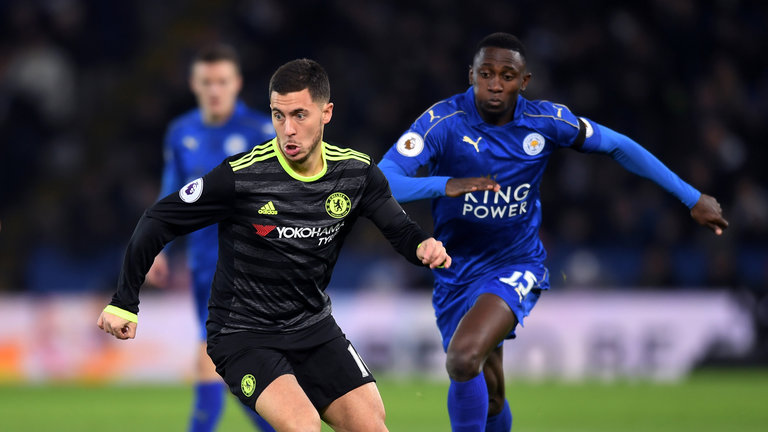 At the moment, Chelsea have 40 points in Premier League. They are in 4th place.
There is a total of 66 matches played by them over the course of the last year. They have 36 wins; 16 draws; and 14 losses. Therefore, Chelsea have won 54%, drawn 24%, and lost 21% of their recent matches.
In this time, they have scored 1.97 goals on average per match; while conceding 1.24 goals on average.
When away from home in this period, they have a win rate of 54% (19 wins) from 35 away fixtures. 22% (8) of these games away from home have been a draw, with the remaining 22% (8) ending in a loss.
On average they have scored 1.89 times when playing away in this same period; they have conceded 1.51.
In their last ten matches they have averaged 1.4 goals per match – 5 of these matches have been wins for them. There have been 4 occasions when both Chelsea and their opponents have scored. The frequency of matches with three match goals or more is 4 games in their last ten outings.