Looking ahead to Sunday afternoon (UK time), Everton will play Manchester United at Goodison Park with a 2:00pm start time. This is a Premier League fixture.
This match has no official UK TV coverage.
Head To Head
In their most recent head-to-head, Everton played Manchester United in December in a Premier League match. After 90 minutes play, the end result was a 1-1 draw.
In the recent decade, these teams have gone head-to-head 21 times. Everton have won in 5 of the match-ups when they've met, while Manchester United have won 10 times. A stalemate has occurred 6 times.
In their matches to date, there has been an average of 2.57 goals each match. Everton score an average of 1.14; Manchester United have scored an average of 1.43 per match.
Reviewing the home ground performance in this match-up, whichever side has been home has won 23% of the matches between them. The visiting side has won 47% in this head-to-head record.
Everton
In 8th place in Premier League with 36 points we have the home team, Everton.
Looking at results for the last year, they have played 46 matches. They have 20 wins; 13 draws; and 13 losses. This gives Everton a recent Win-Draw-Loss rate of: 43%-28%-28%.
In this time, they have scored 1.35 goals on average per match; while conceding 1.07 goals on average.
At home over this time, they have a win rate of 60% (12 wins). There have been 20 home fixtures. 25% (5) of these games at home have been a draw, with the remaining 15% (3) ending in a loss for the home team.
On average they have scored 1.45 times when at home in this same period. They have conceded 0.7.
In their last ten matches, across all competitions, they have averaged 1.4 goals per match – 5 of these matches have been wins for them. Of these ten games, 6 of them have seen both sides score… The number of matches with a total of three goals or more is 5 games in these last ten outings.
They are also on a run of 5 matches in a row in which they have scored.
Manchester United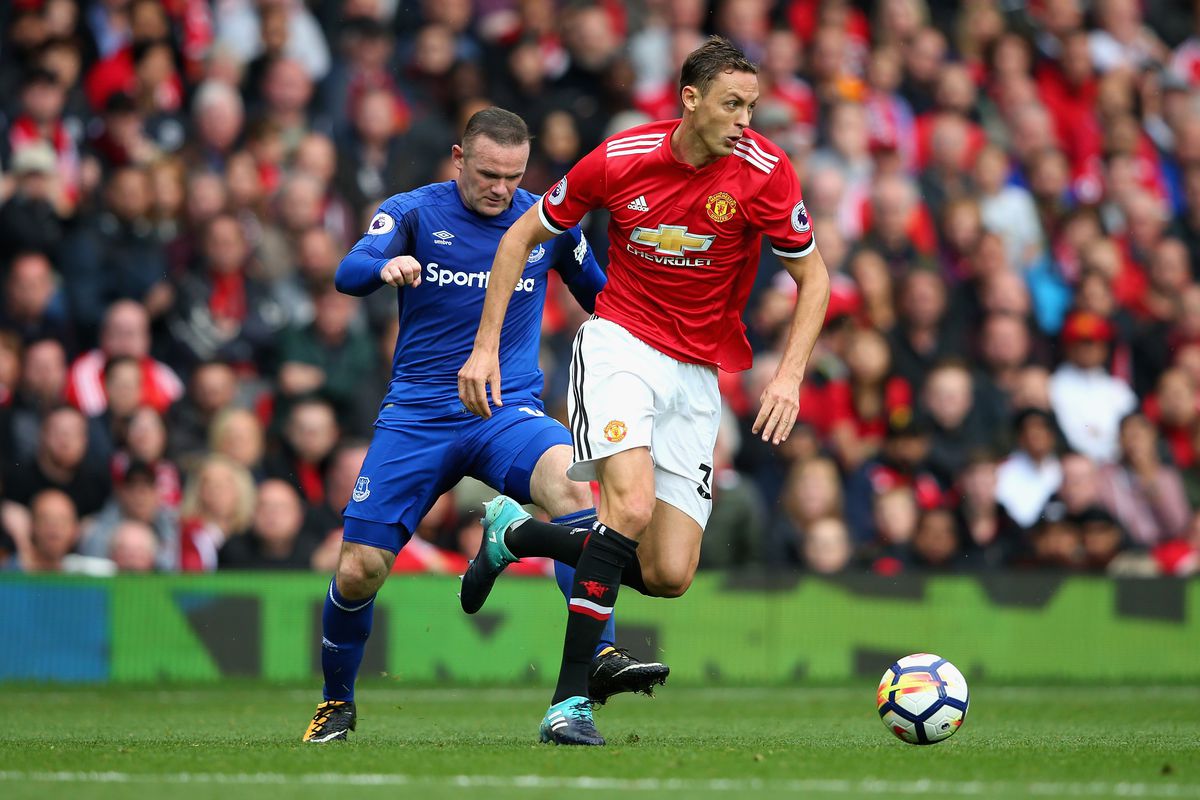 Manchester United have 38 points in the league. They are in 7th position.
Looking over the last year, they have played 62 matches. They have 28 wins; 16 draws; and 18 losses. This gives Manchester United a recent Win-Draw-Loss rate of: 45%-25%-29%.
Over this 12-month period, they average 1.47 goals per match. They have conceded an average of 1.06.
Specifically on their recent away record, they have a win rate of 40% (12 wins) from their last 30 away fixtures. 23% (7) of these games away from home have been a draw, with the remaining 36% (11) being a loss as the away side.
On average they have scored 1.27 goals when away in this last year. They have conceded 1.2.
Their recent performance data shows that they have a total of 16 goals in their last ten matches and this has led to their current win rate of 50%. There have been 2 occasions when both Manchester United and their opponents have scored and the total number of matches with over 2.5 goals scored is 3 from the last ten.